ASSOCIATED KEROSENE & OIL LAMPS AUSTRALIA.
BRAIDWOOD

Phone: 4842 1183 Email: oillamps@oillamps.com.au
ANTIQUE OIL & KEROSENE LAMP RESTORATION & REPAIR
Kerosene & Oil Lamp Repairs
Antique Lighting Repair & Restoration
Antique Lamp Repair & Restoration
Kerosene Pressure Lamps, Kerosene Stoves & Marine Stoves
Pressure Lamps we only Service Austramax
LAMP PARTS MANUFACTURED & CUSTOM-MADE

MILLER NO 1 FLAME SPREADER
BEFORE AFTER BEFORE AFTER
Miller No. 1 Straightened Burner basket had been squashed
& broken wick winder shaft.
John is a licensed motor cycle mechanic, he also spent 6 years as a Contractor working as a Maintenance Engineer & Service Mechanic. Facets of his work were mechanical and electrical , steam & fluid control , heating and engineering.A competent tool & die maker. John hashadformal studies and working experience with silver & gold jewellery, lost wax casting & mould making, He is a Glass Artist and has a keen interest in glass blowing and ceramics, so he can provide you with expert advise & skills.
Our work shop is set up to accommodate all of these skills, with a Restoration work area and a small scale engineeringshop with a number of presses, lathes, milling machines, spinning lathe, polishing & metal finishing equipment, sheet metal and welding tools etc
Our Glass & Ceramic section comprises 3 Furnaces, Glass Lathe ( grinding gear ) and 14'' Diamond Saw etc and a special
sandblasting/etching unit.
We have now improved the cleaning of ornate metal parts which does not require the use of acid which runs the risk of destroying the metal. The finish is so fine that all that is needed on some restorations is to seal it with lacquer. Our new improved technique gives a beautiful finish to Cast-Iron.
John makes moulds for glass, metal and ceramic casting and we now have our own casting facilities for metal.
For over 15 years, John has made dies and jigs for almost every job. When your componentis put in one of his specialjigs it will be 100% true and straight. If he doesn't have a jig he will make one just for your particular needs.
All of our repairs and services are carried out in our workshop. Lamps, pressure lamps (we now only service Austramax pressure lamps) etc can be dropped off at Braidwood we can be contacted on 02 4842 1183 or at our Sydney Outlet - Wentworth Park Antiques & Collectables Fair (every 1st Sunday of the month from 9 -3pm)or at the Old Bus Depot Market, Canberra every 4th Sunday of the month or can be posted, to P O Box 307, Braidwood NSW 2622
A few of our services that we can provide are
Restoration of Metal Lamps
Service & Restoration of Austramax Pressure Lamps & Blow Lamps A thorough service where the burner & tank are cleaned and pressure tested once we are satisfied all is ok , we replace the seals
Manufacture of the following parts - Jets, needles, leather pump cups, seal kits, hoods, globes . etc
John also make a range of stock parts such as Galleries & Tripods, Shade Rings , Ceramic Burner Knobs, Pegs, Collars, Metal & Marble Bases, Columns to suit any size, Burner Parts, Heater Mantles,Hanging Lamp/Store Brackets , Metal shades. If we don't have a stock one John can make one for you.
John is well-known for his restoration of kerosene lamps & burners and has clients in England, USA & Canada

You can contact John Gannon by email oillamps@oillamps.com.au or phone (02) 4842 1183 for advise.
When sending work of any kind to be repaired IT MUST HAVE ALL CONTACT DETAILS WITH IT
Name , postal address, and phone number thank you.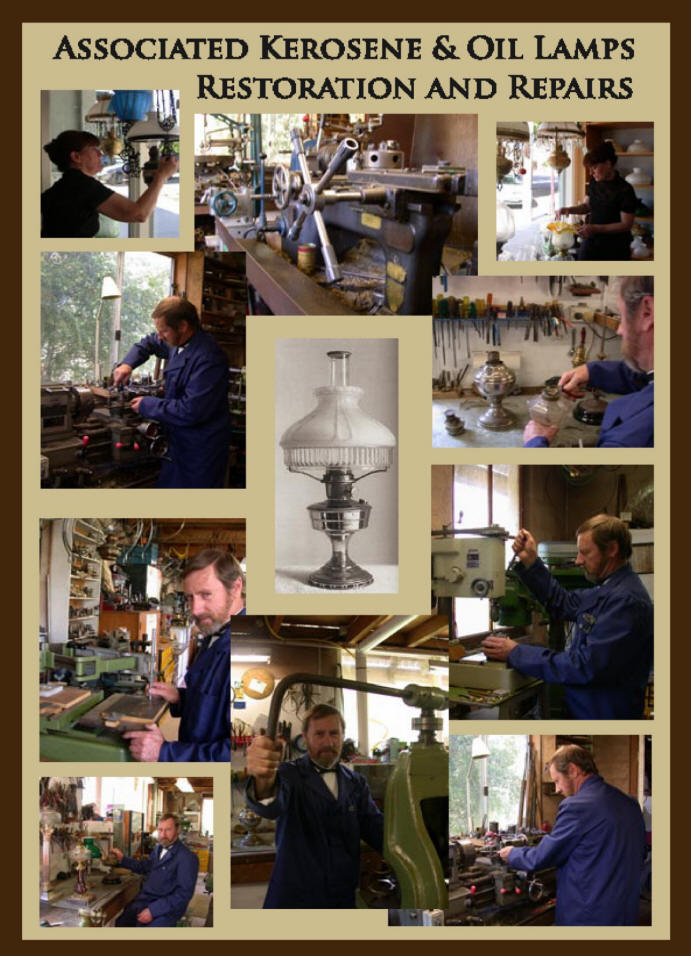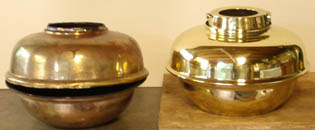 RESTORATION OF MESSENGER READING LAMP
Left - Tank was cracked all over and was dismantled to take a pattern
Right - A new tank was spun

Messenger Reading Lamp with new tank.

This beautiful crystal lamp font had the bottom broken out of it and had been electrified. A new base could have been glued to it, not convinced how long the gluewould have lasted with the kero - Our solution was to make a glass bottle and glue it in It is almost impossible to see iinside the crystal font. I also added one of our new silver plated Hinks -style bayonet burner and bayonet collar see right.
ASSOCIATED KEROSENE & OIL LAMPSAUSTRALIA www.oillamps.com.au