ASSOCIATED KEROSENE & OIL LAMPS AUSTRALIA.
BRAIDWOOD NSW

LAMPS & LAMP PARTS MANUFACTURED
UPDATED
__________________________________
Check our New Items regularly for newly manufactured products
** Miller No. 2 Folding Tripods
** Ceramic Base with Brass Column
** Famos Flame Spreader
Hand Blown Glass Lamp by John Gannon with our new tapered reeded column and marble base
in Cobalt , Cherry Red, Green & Yellow. Stamped underneath marble base AKOLA in gold
& glass font signed.
Now Available
Duplex Bayonet Burners with Ceramic Duplex Wick Winders
(These burners will compliment any antique lamp)
Brass Reeded Corinthian Column with Peg
__________________________
Scroll to down towards bottom of page to see recent items
---
Australian B Collar
Manufactured in Braidwood NSW by John Gannon
Price $16.50
---
MILLER HANGING FRAME & TIN SHADE
Miller Hanging Frame with Original clip for Miller No. 2 & Miller No. 3 $75.00
These frames have the adjustable ring &can fit most hanging & table lamps, including Aladdins
Tin Shade - Miller No. 2 $75.00
Smoke Bell $29.95
Hanging Frame manufactured in Braidwood by John Gannon
---
4"Flat Duplex Gallery
Price $22.00
Made of solid brass to original design
Also available in 5" Hinks & Flat Galleries
Made in Braidwood NSW - Designed & manufactured by John Gannon
---
SOUTHERN CROSS LAMP
Height 7 1/2 "
Polished Brass with Gem Burner
Price $ 48 .00
Manufactured by Associated Kerosene & Oil Lamps Australia
---
MILLER ORNATE BRASS SMOKE BELLS

$29.95

---
BRASS STEMS for American 1850's Glass Lamps. Manufactured in Braidwood NSW by John Gannon
---
KAYEN hood

- the KAYEN AP2 (All purpose lamp)
also suitable for the Tilley EX100 lantern
$55.00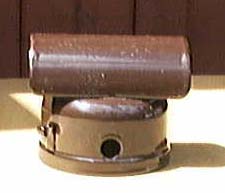 Manufactured by Associated Kerosene & Oil Lamps
---
Straight hanging frames are also available or made to measure to suit any font see below
Manufactured by John Gannon
---
HINKS - DUPLEX WEIGHT EXTINGUISHER - $22.00

Manufactured in Braidwood by John Gannon
---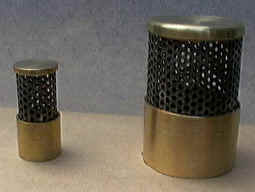 MILLER/JUNO STYLE FLAME SPREADERS
We manufacture other flame spreaders please contact for availability
Miller /Juno No 0 $48.00
Miller /Juno No. 1 $55.00
Miller/Juno No 2 $55.00
Manufactured in Braidwood by John Gannon
---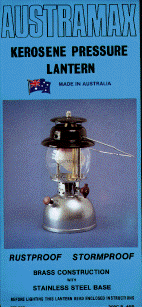 AUSTRAMAX KEROSENE PRESSURE LANTERN - MODEL 3/300
PRICE: $159.00
AUSTRAMAX PARTS
Pressure Lamp Link - Home Page
---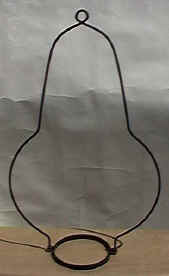 Hanging harp Frame Made Of Steel,
Finished in Black Paint
Also available with straight frame
Suitable For Aladdin Fonts - Brass, Nickel or Bakelite

Miller No 2 & Miller No. 3 fonts
Price $44.00
With Adjustable font retaining ring - $75.00
Manufactured in Braidwood NSW by John Gannon
---
FAMOS /VERITAS MANTLES

Original mantles are no longer available

You can now use your Famos/Veritas lamp
with our new frame & Kone Kap mantle.

New mantles can be fitted to frame several times.

Manufactured in Braidwood by John Gannon

Price:$ 29.95



---
---

TILLEY PRESSURE HEATER MANTLE
Manufactured in Braidwood by John Gannon

Made in Stainless Steel

$33.00

New Burner Tops To Fit Old Duplex
Burners

$30.00
New Duplex Burner With White CERAMIC
Wick Winders


Ceramic Insert Designed & Manufactured by John Gannon

Antiquedor Brass $65.00




Antiqued Duplex Burner with Collar

& Snuffer Weight

$89.00
616 style shade to fit Aladdin - Hanging Lamps - Model 12

Price $220.00

Hinks Collars Made to Original size
Manufactured in Braidwood by John Gannon
Price $30.00
---
Lions Heads - Cast in red bronze

Manufactured in BraidwoodNSW by John Gannon


$35.00 each
---
Corinthian Column

Price $220.00

To fit Pyramid Base with 7/8" and 15/16Thread

Ceramic Base & Brass Column
Ceramic Base is hand made
in Braidwood by John Gannon
Made of terracotta clay to
original design

Famos Flame Spreader

Manufactured in
Braidwood by John
Gannon

MillerNo 2 Folding Tripod

Manufactured in Braidwood by John Gannon
Made of Brass also available in Nickel

$55.00

---
ASSOCIATED KEROSENE & OIL LAMPSAUSTRALIA www.oillamps.com.au