ASSOCIATED KEROSENE & OIL LAMPS AUSTRALIA - BRAIDWOOD Est 1993 Antique Oil & Kerosene Lamps Replacement Parts Manufacturer Restoration Repairs

MARCH NEWSLETTER
TOPICS - Kyko Kerosene Fans, Manhattan Student Lamps, Vase Lamp Tanks & Miller Tanks,
Miller Folding Tripods, Glass Lamp Shade Repairs

Hi All

We have decided to do a newsletter to keep everyone up to date with what we have been manufacturing and what has been happening. January is normally
a busy time for us as holiday makers travel through Braidwood from Canberra, NSW, interstate & overseas as they head down to the South Coast or visit for
the day. Braidwood is an historic town & was first settled in 1839 , it has some wonderful historic buildings, speciality shops, galleries& cafes, it is a
destination that people love to visit, we get to met all sorts of people.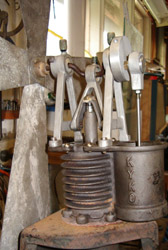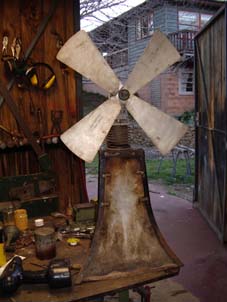 KYKO KEROSENE HOT AIR FANS
Had a great time towards the end of 2008restoring a couple of Kyko kerosene hot air fans,
one was in fairly goodcondition the other had several components missing including theflywheelandconrod. As the other fan was complete I was able to take an impression and I recast them in aluminium in the workshop & machined them up and got themboth up and running I have been thinking of manufacturing a limited number of these.
If anyone is interested please let me know.
If you are interested in learning more about Hot Air Engines go to www.stirlingengine.com
MANHATTAN STUDENT LAMP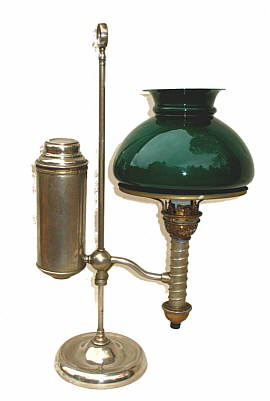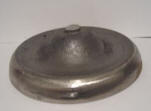 February was also busy, I got hold of a bigger burner for the metal casting furnace
and had been wanting to cast some Manhattan Student Lamp bases in cast iron for some time so that lamps that have been electrified with drilled bases could be replaced & finally got the opportunity to do so, will be spinning some brass tops over them very soon.


Tip: If you are buying a Manhattan student lamp make sure that it has the wick raiser in it, sometimes they aremissing as they do get thrown out with the old wick. If you find it is missing I have had to manufacture them for a couple of lamps and can make one up for you. Tripods can be repaired or replaced and we also stock Student Lamp chimneys



Student 1 7/8" chimney x 10"
VASE & CENTRAL DRAFT LAMP TANKS I have had a run on making brass tanks for Vase Lamps & repairing Centre Draft Hanging lamp tanks, below have shown a couple of examples that I have made, more photos to follow as I have a few more waiting to be done.

When buying a Miller hanging lamp always check the tank as more than likely it will be cracked due to the thin brass and age as they were usually manufactured round about 1880's - 1890's and will leak when filled with fuel . As most of them are cracked I can restore the old tank keeping the original top in tact for the Miller hanging lamps, Gone with the Wind style table lamps and all others with the 5 1/4" diameter by 4 1/2" high tanks.

These two tanks were made up for a pair of Mary Gregory Vase lamps
The above photo shows new tank top which had to be replaced as it was cracked, bottom was still in good condition. Lamp not available for photograph


This Vase Lamp came in for repair with no tank. Photo showing new tank
Tank size is 3 3/4"
2 1/2" high
Example of cracked
Eureka tank made by
American Lamp & Brass Co. that was sent for repair from Canada
Eureka tank that has been
repairedwith new tank bottom

This tank was made for another
vase lamp and the tank size is
5 1/2" diameter by 2 1/2"
high
LAMP SHADE REPAIRS
Some glass shades can be repaired providing all pieces are available and not shattered, clear ones are a bit iffy, white & coloured lamp shades
come up the best
| | |
| --- | --- |
| | |
| Broken Shade | Repaired |
MILLER FOLDING ARM TRIPODS
The Miller folding arm tripods was on my to do list for a number of years, but as it consisted of making 15 dies and jigs

and there were as many operations in the pressing and the assembling process the first Miller tripod I made was with fixedarms as it was easier. I have since changed the arms to a more curved shape resembling the original ones.

The folding arm tripods are as close as you will get to the original ones and have even used the original hollow rivets.
The advantage of these folding tripods are that they don't cause the tank to get dented even with a heavy shade.
They are available in brass and nickel and they fit either the bayonet or screw type burners



Tip of the Month - It might be time to change the fuel in your lamp if it has not been used for a while as it may have gone rancid,
kerosene &lamp oil have a shelf life it goes off and will keep drawing up the wick.
When you go to light your lamp it will smoke and may be very smelly, if it does smoke or smells it is best to
clean the font and put in fresh lamp oil and a new wick. it may also have picked upmoisture which blocks the capillary
action of the wick and stop the kerosene/lamp oil soaking up the wick causing a partly dry wick which will cause
smoking and will eventually go out
It is always a good idea to replace the lamp oil/kerosene if you have not used it for sometime before lighting

John & Linda Gannon
Associated Kerosene & Oil Lamps Australia